Bong Ramilo
Executive Officer // Creative Producer
Christian (Bong) Ramilo has worked in community arts and cultural development for more than thirty years. Since coming to Australia in 1986, he has used diverse approaches, including the Theatre of the Oppressed and interactive digital media, in working with diverse communities to make and share art.
He is committed to working with communities to democratise the means of cultural production and distribution. He is the 2018 recipient of the Australia Council Ros Bower Award, which "acknowledges the achievements of an artist or arts worker who has made an outstanding and sustained contribution to community arts and cultural development".
---
Anna Weekes
Executive Officer
Creative Producer – DCA Rural program (ART OUT)
Anna Weekes has a Community Arts and Cultural Development background, working both in Australia and internationally on community-directed arts projects for social justice. Anna has previously worked in Cambodia for 18 months with a local art and social wellbeing NGO, and in Vanuatu working with a group of women to nurture and support their ideas on women's community development projects.
Read more
---
Leisa Govan
Executive Officer // Finance
Leisa has worked both overseas and at home in Australia doing accounts in a range of organisations and fields. Leisa's involvement with Darwin Community Arts began in Malak with the "My Sisters' Kitchen' project, participating and volunteering. Happily an opportunity came up to work with DCA in the accounts area.
---
Amina McConvell
Executive Officer
Creative Producer – Arts Access Darwin (Free Space Studio)
Creative Producer – UNTiTLED gallery+studio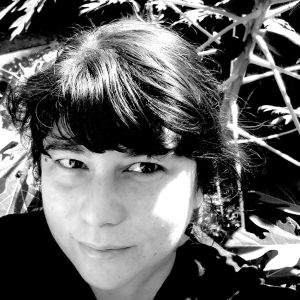 Amina McConvell is an artist, curator, and community arts worker who lives in Darwin and often enables cross-cultural exchanges between artists in the Northern Territory and South East Asia in her role as the creative producer of Asia in Darwin. Amina also works at Darwin Community Arts as the creative producer of Arts Access Darwin and is the founder and director of the Free Space Studio a visual arts studio for artists with intellectual disabilities in Darwin.
---
Tarzan JungleQueen (McDonald)
Marketing & Promotions
Creative Producer – UNTiTLED gallery+studio
Creative Producer – Arts Access Darwin (Free Space Studio)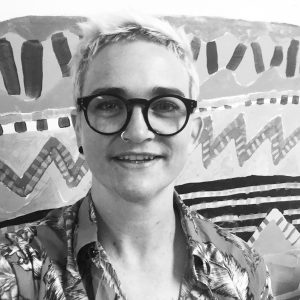 A multi-disciplinary, queer artist, Tarzan uses graphic design, photography, screen printing and film as their main mediums. Their work has been exhibited all over Australia and Internationally in Jogjakarta.
Tarzan runs their own Graphic Design and Screen Print business 'Tarzan Design Jungles. For many years Tarzan has been a facilitator at Free Space Studio (Arts Access Darwin). They also work regularly at Charles Darwin University as the Print Technician, assisting students in the screen print studio. They are currently also employed by Artback as the Traveling Artist in residence – running screenprint workshops in remote communities around the Northern Territory.
---
Nadine Lee
Manager- Northern Territory Regional Arts Fund
Creative Producer
Nadine Lee is from the Gulumerridjin (Larrakia), Wardaman and Karajarri peoples of NT and WA with Asian and European ancestry. Born and raised in Darwin from a large artistic and cultural family, she has been a practicing artist since graduating with a Bachelor of Creative Arts and Industries (Visual Arts) from Charles Darwin University. She is a multi-disciplinary artist who has shown in local and National exhibitions.
2016 alumni of the exclusive inaugural Encounters Indigenous Cultural Workers Scholarship with the National Museum of Australia supported by The Princes Trust Charities Australia and 2018 alumni from the National Gallery of Australia Indigenous Arts Leadership Program, Wesfarmers. Associate Researcher for the Fowler Museum at University California Los Angeles UCLA for the Aboriginal Screen-Printing Textiles from Australian 's Top End Exhibition. Darwin Aboriginal Art Fair – Cultural workers alumni. Nadine is long-term volunteer resulting in a 6mths traineeship Conservator at the Museum and Art Gallery of the Northern Territory on specific projects like the Telstra National Aboriginal and Torres Strait Islander Art Awards (NATSIAA) and other major exhibitions since 2012. Curator of Balunu Foundation Inc and City of Darwin- CityLife LightBox Exhibition. Contractor Installer for Charles Darwin University, CDU Art Gallery. Previously Nadine was the Indigenous Travelling Exhibitions Officer at the National Gallery of Australia. Currently, the Northern Territory Regional Arts Fund Manager for Darwin Community Arts (DCA) and causal Creative Producer at DCA. Qualified Laughing Yoga Leader.
---
Georgia Glen
Venue and Assets Manager
Membership and Volunteers Coordinator
Creative Producer –  Intermingle
Creative Producer –  Frontline

Georgia has a background in Education, Arts and the Environmental movement. She has worked as a lecturer at Charles Darwin University, a Project Manager for the NTG Department of Education and been involved with several community organisations. Georgia joined the Darwin Community Arts team in March 2020 and has been Creative Producer for the Intermingle workshop series.
Georgia has completed two Bachelor degrees with three majors; Sociology, Art History and Visual Arts and Design. As well as undergoing additional training and qualifications in project management and multimedia production. She enjoys a variety of visual art forms, particularly drawing.
---
Tania Lieman Creative
Creative Producer – CemeNTworx Community Theatre and Performing Arts Program
Tania Lieman is an actor/director/theatre-maker/producer working across the spectrum of theatre and performing arts including community cultural development. She has worked with numerous Territory based arts companies and organisations as an actor, collaborator and arts administrator over 25 years in Darwin. Tania is a former Artistic Director of Darwin Theatre Company and is currently Creative Producer of CemeNTworx Theatre and Performing Arts Program at Darwin Community Arts Inc.
---
Shay Jayawardena
Equity and Diversity Officer
Shay is a visual artist with practice mostly in painting and sculpture. She has walked alongside culturally and linguistically diverse, LGBTI, neurodiverse and First Nations communities across Australia and overseas with a passion in being with people so they discover and nourish their hidden and overt gifts. With a fascination in how we metabolise and spit out the world and each other, Shay is interested in what it actually means to build capacity, connect, feel empowered and belong.
---
Allan Murphy
Creative Producer – World Mix Band
---
Eve Pawlik
Arts Facilitator – Arts Access Darwin (Free Space Studio)

Living on Larrakia country in Darwin, Northern Territory Eve Pawlik is a multi-disciplinary artist working with photography/film, sculpture and painting. Primarily her work has been alongside communities developing artistic, culturally and socially meaningful programs in remote and regional Australia. Passionate about storytelling, Eve is always curious about new ways in which we can engage and share those stories. Eve's role with Darwin Community Arts is as an Arts Facilitator for Free Space Studio and UNTiTLED Gallery support.
---
Liz Martin
Arts Facilitator – Arts Access Darwin (Free Space Studio)

Lix is originally from outback New South Wales, with stints spent living in Queensland, Victoria, Tasmania, Western Australia, South Australia and now based in the top end of the Northern Territory since 2007, Elizabeth's practise is focused largely on capturing the light and energy inherent in the Australian landscape. Growing up in the bush and having a love for wide open spaces has provided a wide ranging scope for her work. A key focus of Elizabeth's practise is her love of drawing, which she believes is the foundation for all artistic processes. Recent long term world travel has necessitated the use of a travelling art studio consisting of gouache, watercolour pencils and graphite. Painting en plein air is Elizabeth's primary method for capturing a sense of place and these works are then used as a basis for studio works completed later, using oils, gouache or acrylics.
---
El Ibo
Arts Facilitator – CemeNTworx
El Ibo's first love has always been theatre, followed by her passion in dance. She is a professional actor, performing dancer and an emerging playwright. She holds a Bachelor of Creative Industries, majoring in performance and has a graduate cert in teaching. She works across different ages in Darwin and remote communities including youth with disabilities through drama and dance. El is an Artist Facilitator with CemeNTworx  at DCA.